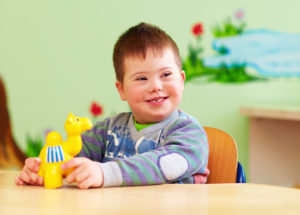 April 2nd is World Autism Awareness Day! Did you know that the CDC estimates that about 1 in 54 children in the US have an autism spectrum disorder? If your child has autism, it's important you know that they may be at a higher risk of certain oral health issues. Thankfully, there are plenty of resources and tips to help you keep that precious smile safe! Read on as we go a bit more into depth about how autism can influence your little one's oral health and what you can do about it!
Autism & Oral Health Issues
Keeping up great oral hygiene and visiting the dentist can be a challenge for any child, but it's often a problem for children with autism. There are many problems associated with autism that can increase your child's risk of oral health issues, like:
Unusual oral habits: Chewing on objects, picking at the lips, and other unusual habits can weaken the teeth and cause infections.
Certain medications: Many medications cause dry mouth, which allows cavity-causing bacteria to accumulate quickly on the teeth and burn through the enamel.
Communication challenges: Depending on the severity, some children with autism may not communicate their dental pain until the issue has become quite advanced.
Teeth grinding: Teeth grinding (bruxism) is common in children with autism, and it can lead to weakened, sensitive, or chipped teeth over time.
Difficult behaviors: Children with autism will sometimes have difficulties keeping up a normal dental routine or staying still while visiting the dentist.
How a Pediatric Dentist Can Help
If your child has autism, you should consider taking them to a pediatric dental practice. A pediatric dentist has years of additional training in meeting the unique oral healthcare needs of children. They're also experienced in creating a relaxing, fun atmosphere to ease anxiety and have years of helping children with autism keep their oral health on track. They would be more than happy to care for your little one's precious smile and give you personalized tips on how to help them practice great oral hygiene at home.
Keeping Their Smiles Healthy at Home
At-home oral hygiene can be a challenge for children with autism, but it's essential for preventing serious oral health issues. While your pediatric dentist will be able to give you personalized recommendations, a few of the basics for encouraging healthy smiles at home include:
Keep a regular routine: Everyone benefits from a reliable routine! Consistently reminding them about how important taking care of their smile is and demonstrating how to do so will build the foundation for regular dental care.
Commit to brushing and flossing: Brushing and flossing are the main tools of at-home oral hygiene. Be sure to brush their teeth for a full two minutes twice a day and floss between all their teeth daily.
Be patient and take your time: Patience is key and every child is different. There are a variety of techniques, methods, and products you can try that are designed to help children with autism practice better dental care.
About the Practice
The talented team of dentists at Barefield Pediatric Dentistry are committed to providing excellent, consistent dental care for growing smiles. Dr. Donna Barefield has been serving Duncanville and the surrounding communities since 1982 and is an active member of several prestigious organizations such as the American Dental Association and the Southwestern Society of Pediatric Dentistry. As a Diplomate of the American Academy of Pediatric Dentistry and a dentist who truly cares, you can rest assured that your child's precious and special smile is in good hands. To learn more, she can be reached via her website or at (972) 298-7560.