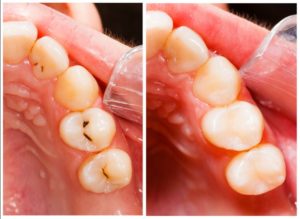 Pick any given person you walk past, now if you look into their mouth – okay let's keep this theoretical so you don't get into trouble. If you were to investigate their teeth, there's a decent chance you'd see some amalgam dental fillings. As the years go by, however, this obvious visual will probably become less frequent as tooth-colored fillings, aka composite fillings, continue to rise in popularity.
Many people appreciate the low-key nature of these fillings since other people likely won't be able to see them. There's more to selecting this variety of cavity repair than appearance, however. Keep reading to learn some advantages of choosing tooth-colored fillings from your pediatric dentist in Duncanville.
Composite Fillings Go Easy on Your Pocketbook
Tooth-colored fillings are usually less expensive than other varieties. Medium-to-small composite fillings typically have a similar lifespan to metal amalgam – 7-10 years. Less painful for your mouth and your wallet!
Tooth-Colored Fillings Bond with Existing Teeth
The natural tooth is prepped with a bonding agent, the composite resin is inserted, and then it adheres with the tooth enamel as it hardens. This not only makes your teeth more structurally sound but also more durable.
Composite Fillings Harden Quickly
The procedure for this type of filling is shorter than any other. The special light used immediately hardens the layers of composite resin. Other filling types require much more time to get cured for normal functionality.
Tooth-Colored Fillings are Less Invasive
Other types of fillings require a significant portion of the tooth to be removed along with the infected portion. Amalgam fillings don't bond with the tooth, so extra drilling of a healthy tooth is needed to create ledges to lock the filling in place. A composite filling joins with the natural tooth to make it stronger.
Tooth-Colored Fillings Sidestep Sensitivity
Composite fillings cause less tooth sensitivity than amalgam fillings. The resin provides a shield against the hot and cold temperatures of foods and drinks. It's rare this type of filling will cause sensitivity, and if it does, it will be mild and temporary.
There are plenty of reasons to select tooth-colored fillings in Duncanville besides the fact they look natural and discreet. So, if you're struggling with a cavity or two, don't hesitate to ask your dentist if this tooth-saving treatment is right for you!
About the Practice
At Barefield Pediatric Dentistry, our team of accomplished professionals has been faithfully serving DFW-area families for decades now, fostering a welcoming environment that blends top-tier clinical expertise with the compassion our patients need to feel at ease. Several of our dentists are Board-Certified through the American Board of Pediatric Dentistry (ABPD), which means that in addition to their specialty training, they've also completed rigorous examinations and demonstrated a commitment to the pursuit of continuing education. If you are interested in tooth-colored fillings for your child, our composite resin is specially shaded to match their enamel. One quick appointment is all it takes, which you can schedule on our website or by calling (972) 298-7560.