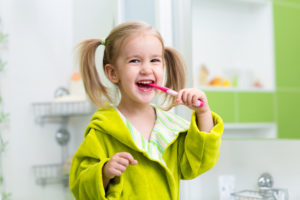 As you buy flowers and chocolates for Valentine's Day, take a moment to enjoy your little one's precious smile! February is National Children's Dental Health Month, which makes it a great time to educate your son or daughter about oral health. Unfortunately, convincing them to take care of their smile on a daily basis can be challenging at times. If teaching your child about oral hygiene feels about as fun as pulling teeth, try these 5 fun and practical suggestions from your children's dentist in Duncanville!
#1 Make Toothbrushing Fun, Not a Chore
If you have trouble getting your child to brush their teeth for two minutes twice a day, try making it more fun for them. Playing a catchy, upbeat song that they like for two minutes is a great way to keep them entertained as they brush, and it can help you keep an eye on how long they brush as well. Or, read to them or allow them to read for two minutes if that's more amusing for them.
#2 Brush Up on Your Flossing Habits
Many of us don't floss as often as we should. Thankfully, by establishing this healthy habit early in your child's life, you can set them up for years of better oral health. As an added bonus, you'll brush up on this important technique as you teach it to them. By taking the time to floss with your son or daughter every day, you can set a good example for them while taking care of your own oral health as well.
#3 Choose Smile-Friendly Snacks Over Sugary Ones
It's not easy to cut out all the sugary chips, cookies, sodas, and juices from your little one's diet. Instead, try substituting them with more smile-friendly snacks. Cheese, broccoli, nuts, turkey, spinach, and apples are all great choices that not only lower your child's risk of cavities, but help keep their teeth and gums strong.
#4 Encourage Them to Drink More Tap Water
Did you know that more than half of American children are dehydrated? Not only will drinking more tap water keep their body's healthy, but it can help protect their smile too. Most tap water contains fluoride, which can make your child's teeth even stronger and fortify them against tooth decay. Enticing them to drink more can be as easy as using silly straws, ice cube molds, or even slices of fruit to make it more exciting.
#5 Show Them There's No Need to be Afraid of the Dentist
Introducing your son or daughter to all the new sights and sounds of a dentist's office before they have a cavity or toothache can make a huge difference in their life. Allowing their dentist to make a good first impression with a simple dental checkup will help them feel more at-ease in the examination chair. These good memories can help them tackle dental anxiety early on and encourage them to continue getting regular dental health care as they grow.
February is a great time to teach your child and remind yourself that great oral hygiene can be fun! Teaching these important healthy habits to your little one now will set them up for a lifetime of happy, healthy smiles!
About the Author
Dr. Donna Barefield and our team of friendly pediatric dentists at Barefild Pediatric Dentistry in Duncanville, TX can give your little one the extra time and special attention they need. Dr. Barefield has more than 30 years of experience keeping young smiles happy and healthy, so you can rest assured that your child's oral health is in good hands. For more advice on how to get your son or daughter excited about taking care of their smile, feel free to contact her via her website or at (972) 298-7560.